Windows 10 was released on the 29th July 2015. The documentation around KMS activation for Windows 10 is very sketchy to say the least. Today I had the pleasure of trying to get a Windows 10 KMS key added to a Volume Activation Management Tool (VAMT for short) server. When inserting the Windows 10 key you were presented with the error :
The specified product key is invalid, or is unsupported by this version of VAMT. An update to support additional products may be available online.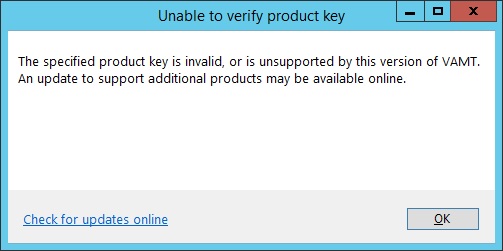 Clicking the check for updates, gives you a version that is older than the one installed so will not help…. handy.
A quick look around on the internet reveals there is a hotfix out to allow Windows 10 to activate from a 2012 R2 Server.
This patch was already installed so this didn't resolve the issue. I then found that you had to change the key for your KMS server to the one in the VLSC to the 2012 R2 for Windows 10 key.
The key can be obtained by logging into the Microsoft VLSC and then clicking Licenses then relationship summary.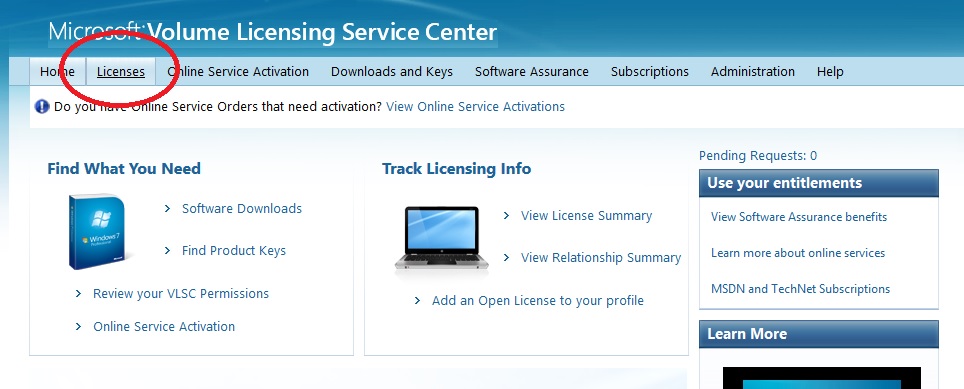 Click on your active license and then click on product keys.
Scroll down until you find "Windows Srv 2012R2 DataCtr/Std KMS for Windows 10. In my instance the key wasn't there. A phone call to Microsoft licensing sorted that out.

Make a note of this key. Then log into your KMS server and open server manager. Click on VA services, then right click on your server on the right and click Volume Activation Tools.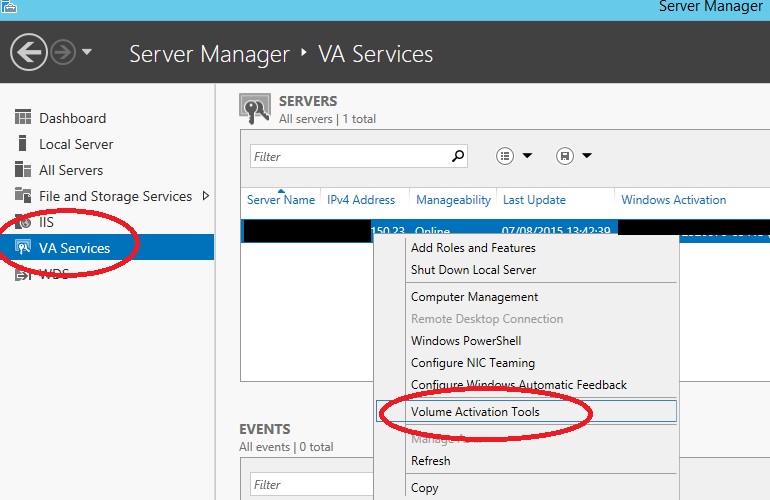 Click next on the next screen.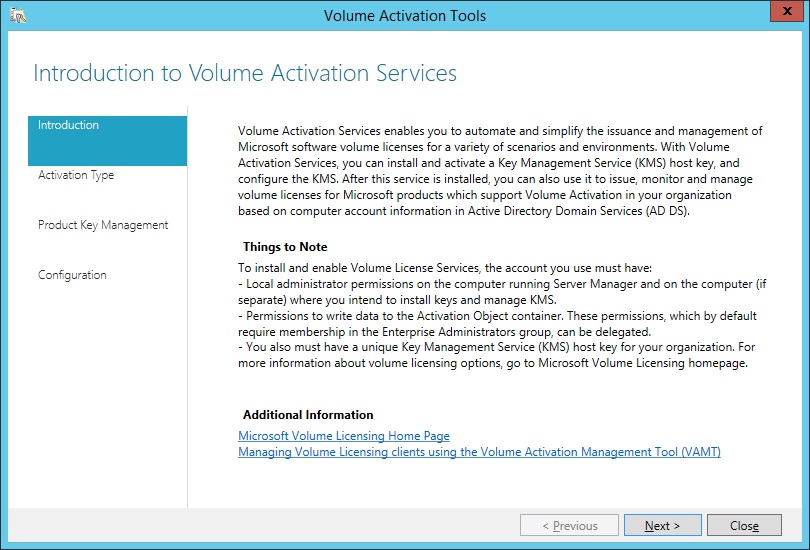 Click KMS and click next.
Under Product Key Management enter the key you obtained earlier. Activate it and then your done on this part.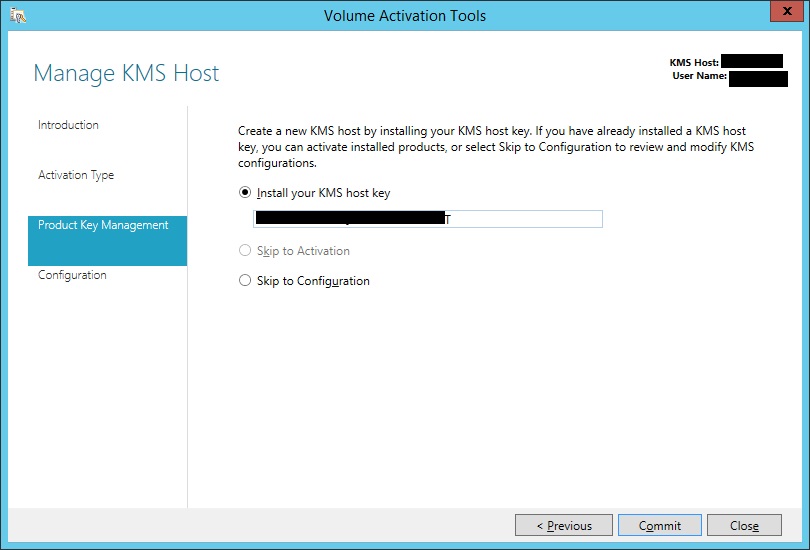 Once I did this part I thought bingo this should be it. Nope there is 1 more step. It was still moaning about the key being invalid.
IMPORTANT
I then installed the VAMT from the Windows 10 Assessment and Deployment Kit (ADK) from the bottom of the page below :-
https://msdn.microsoft.com/en-us/windows/hardware/dn913721.aspx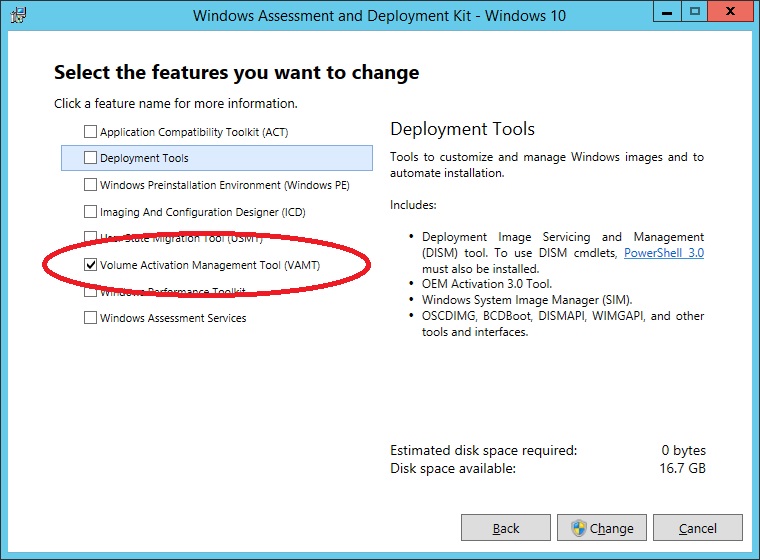 Now go back to the Microsoft VLSC and then click Licenses then relationship summary.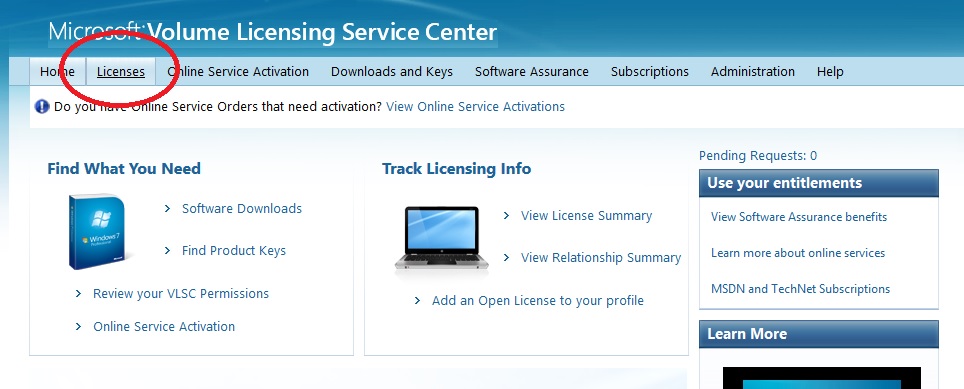 Click on your active license and then click on product keys.
Find your Windows 10 KMS key. Now you should be able to add this to your KMS Server.

Once installed the keys added fine 🙂 Job done