I have found on a couple of servers that the log files in Veeam 7 can grow quite large. The C drive is traditionally smaller than the other drives so I've made it common practice to move them to another larger drive.
To move the log file location on the Veeam backup server go into the registry and drill down to
HKEY_LOCAL_MACHINE\SOFTWARE\Veeam\Veeam Backup and Replication

Left click on the Veeam Backup and Replication folder and on the right hand side right click and select new, String.
Then enter the value
LogDirectory

Now double click on the LogDirectory value you just entered and then enter your new location. So in my example my path is E:\Veeam Backups.

All you have to do now is restart the Veeam Backup Service and your see some new log files populate this location.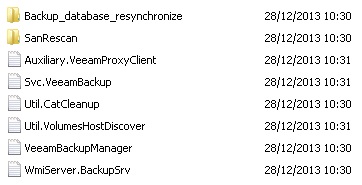 Source : Veeam KB