When creating a new receive connector in Exchange 2007 you might come across the error message below
Active Directory operation failed on server name. This error is not retriable. Additional information: The parameter is incorrect. Active Directory response: value: LdapErr: Error, comment: Error in attribute conversion operation, data 0, v1db1. The requested attribute does not exist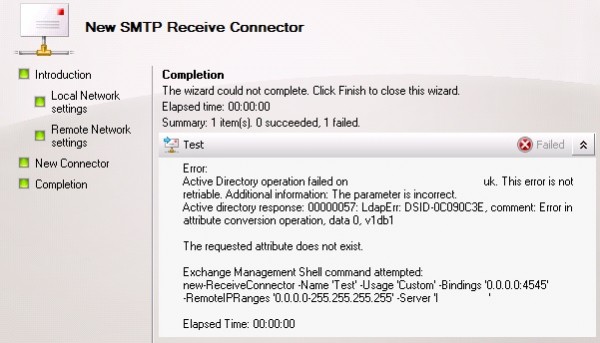 This error message is caused by the installation of Exchange 2007 Service Pack 3. When its installed it hasn't upgraded some of the schema in active directory.
To fix this issue run the command below in the Exchange Management Shell.
Setup.com /prepareschema
If you get an error message when trying to run the command above. Something like "Exchange Server setup encountered an error" then make sure your running it from an elevated command prompt.
Microsoft KB : KB2457729