The quick access toolbar (shown below) is the little bar at the top of most Microsoft Office 2007 / 2010 applications.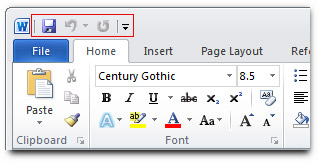 Some power users like to customise this toolbar to add extra icons to it.
If you use redirected appdata or roaming profiles you will most likely find that these changes do not save. This is because Microsoft decided to turn this behaviour off by default and store these changes elsewhere.
Thankfully you can turn this back on.
Office 2007
Microsoft have made a hotfix available for Office 2007. You can download this from Microsoft direct
Office 2010
For Office 2010 we can make the change in the Office Customisation Tool. The setting you need to change is under :-
Microsoft Office 2010 System >> Global Options >> Customise >> Allow Roaming of all user customisations >> Enabled
Most people however notice this issue after Office 2010 is deployed. In this instance you can make the required change via the registry.
HKCU\Software\Microsoft\Office\14.0\Common\Toolbars
Then add a DWORD Entry for the key
CustomUIRoaming
with a value of 1.
You can deploy this using GP preferences.