When installing VMware vCenter Single Sign On, I got a SQL Error 32010 :
Error 32010. Failed to create database users. There can be several reasons for this failure. For more information, see the vmMSSQLCmd.log file in the system temporary folder.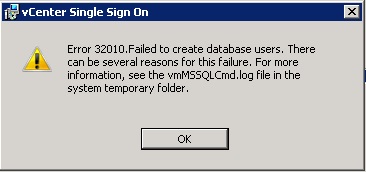 It turns out the reason for the error was that the SQL Passwords I had specified didn't meet the domain complexity requirements.
If you get this message make sure the passwords are long etc and meet your domain password requirements.