I now have a laptop and I am not using this screen so the time has come to sell it. Click on the pic to enlarge.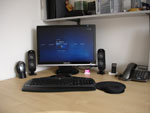 Still got warranty on it. Selling it for £100. Drop me a mail if you know anyone thats interested.
In case your interested I am selling it to fund my next purchase a popcorn A-110 Mediatank.